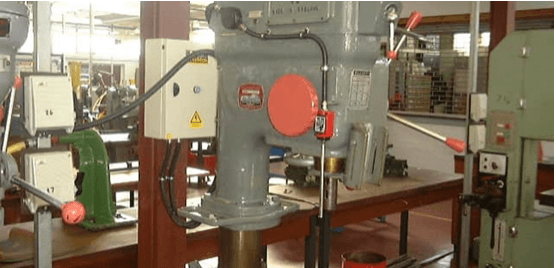 DC injection braking systems designed to rapidly stop an A.C. powered machine in a critical situation.
A typical expected stopping time when fitted to a drill is within 1 second. The DC Brake unit is of particular relevance to machinery which is difficult to guard in the conventional manner e.g. radial arm drilling machines. Very often in these situations the only way to ensure sufficient operator protection is to provide a way of stopping the machine quickly if the operator gets into difficulties. The DC. injection braking principle is the best and most reliable way of achieving this. Theoretically it is possible to stop a machine instantly, but this would cause a massive mechanical stress on any transmission which would almost certainly be sheared or stripped. Therefore any injection braking system must be suited to the momentum and torque of the machine which it is controlling.
The common way to initiate the DC Brake is with a Telescopic Safety Switch or Red Emergency Stop Button.
Clear Machine Safety Ltd
Registered Company : 06932939
VAT Registered : 974 037995